Choosing the right foam for your seating
There is many different types of foams and different densities to choose from, so which is the right foam for your needs?
Foam For Home have narrowed down the selection process making it easier by offering four of the most common foams used for seating for indoor and outdoor furniture.
The higher the density the better the quality the foam is and the longer the foam will last. Foams also come with a hardness measurement and the higher the hardness is the measure on how firm the foam will be but is not a measure of the quality.
We have in stock over 30 types of foam so should you have a specific requirement contact our team who will be happy to guide you on the best selection.
Entry Level Foam   16 – 110
This is a low-density foam can be used for seat backs, general upholstery. Also ideal for light weight usage children's seating and low usage areas. With it having such low density it would not be the recommended choice for seating. This foam is also backed with a 1-year manufacturer's warranty.
General purpose Foam 23- 130
This is a popular range and is the ideal choice of foam for back rests in seating areas and ideal for lower budgets for seating areas. This foam is commonly used in many styles of seating, including bench seats and window seats. This Foam is backed with a 2-year manufacturer's warranty.
Premium Grade Seating Foam 30 – 130
Our most popular grade and recommended by ourselves as the ideal foam for any indoor or outdoor covered seating area. Providing excellent support and comfort and will retain its bounce for many years. It has medium firmness for comfort and higher density design to last the test of time. We recommend this foam for window seats, bench seats, mattresses, day beds and all seating types. This foam is backed with a 5-year manufacturer's warranty.
Quick Dry Reticulated Foam
Reticulated foam is the ideal foam for areas that are subject to getting wet. This foam is commonly used on outdoor furniture that is not covered, Sun-loungers and outdoor bench seats. The reticulated foam allows water to penetrate quickly and not retaining  any liquids making it the ideal selection for outdoor areas.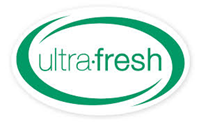 Anti-Microbial Protection
Ultra-Fresh – All our foams come with the Ultra Fresh treatment, this is an anti-microbial treatment that controls dust mites and other household bugs that go on to trigger allergies and asthma. The foam is also kept cleaner and fends off unwanted odours caused by bacterial growth.

Environmental policy
We are proud of the fact that many of our foams are accredited with GECA for the Australian market. The GECA accreditation is recognised worldwide and lets you know that the product has been verified to conform to strict environmental performance standards.